Fatal error: Call to a member function sql_error() on a non-object in /host/www/forums/includes/functions.php on line 558











:: Return to Main Menu ::





Restoring Previous Versions of Files:



If you have a file or files that are damaged, you can restore them to their previous version if one exists. Previous versions are automatically saved as shadow copies as part of a restore point. If system protection is turned on, Windows automatically creates previous versions of files and folders that have been modified since the last restore point was made. Previous versions are also created by Windows Backup when you back up your files.

To restore a previous version, right click on the file and select Restore Previous Versions.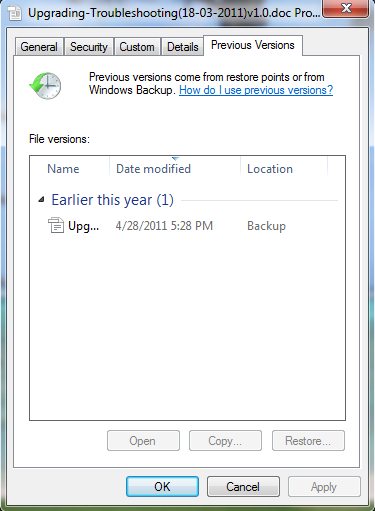 Select the version you wish to restore and click Restore.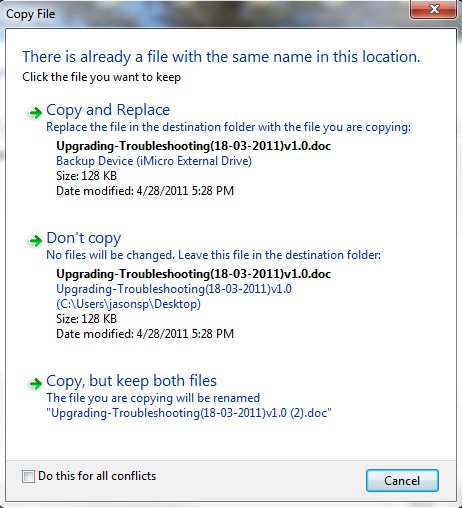 Next, select whether you wish to replace the existing file, "Don't Copy" which essentially cancels the restore, or keep both files (the original and the restored file).



Restoring Files and Folders From Backup:



If you have lost or destroyed folders or files that you still want on your Windows 7 system, you can restore them from your backup. Follow these steps to restore your files and/or folders:
Click Start, then click Control Panel and then click Backup And Restore Center.
Click Restore My Files.
On the Restore Files screen, click the Browse For Files or Browse For Folders button. You can add files AND folders to a single restore operation.
Click Microsoft Windows Backup in the left pane.
Double-click the backup that you created in the previous exercise. Choose the folders or files that you want to restore and click Add Files or Add Folders. Click Next.
Select whether you want files or folders saved in the original location or a different location. To begin the restore, select Restore.
When restore is complete, click Finish.
Note: To restore a user's profile, select Browse for Folders in the steps above and select the user's profile folder.