502 Bad Gateway
---
nginx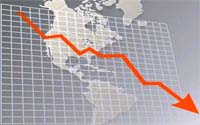 Some thought the I.T. industry was recession-proof, afterall, companies need their technology working, right? Then how is it that an estimated that over 330,000 tech employees have been laid off worldwide since August of last year? Worse, the cuts have been occurring at an increasing pace. 84,217 tech jobs were cut in the first three months of this year which represents a 27% increase from the fourth quarter of 2008 according to Challenger, Gray & Christmas.

Don't have a panic attack yet as there may be signs of hope.

Payrolls in the U.S. shrank in April by the least in six months and may represent a slowdown in job losses. Maybe we are through the worst of it?

While according to the research firm Gartner, technology spending worldwide is expected to fall 3.8% this year, Forrester Research believes that the U.S. tech industry will begin to rebound in Q3 of this year and experience "strong growth" in 2010. Similar prediction have been made by a wide range of economists and research groups. That is excellent news IF they are right, however, most of them didn't see this recession coming in the first place so we'll have to take their word with a grain of salt.

If either of those don't cheer you up, keep in mind that you could be in a much worse situation. The April unemployment rate in the U.S. construction industry is 18.7% and manufacturing is at 12.4% according to the U.S. Bureau of Labor Statistics. We're faring far better than that in I.T.

It probably goes without saying that competition for the few available job openings is fierce and things will probably stay that way for quite a while. This is why, now more than ever, certifications and education will really make a difference in finding new work. Unfortunately, this is not an ideal time for most to spend money on school, training, and certifications, but if you can find a way - do it!

If you are already out of work, be sure to check out our Career and Job Center for available jobs in your area.